Catalog
Meattrapper Handmade knives for the Outdoorsman
The models featured on this page were designed in collaboration with "The Meat Trapper" and are made for user comfort and to excell at the skinning and processing of game for the outdoorsman and 21st century hunter, trapper, gatherer.
Email muskratmanknives@gmail.com to order
Meat Trapper Pelter
With a time tested and field proven ergonomic handle that is comfortable in most any position the Meat Trapper pelter is an excellent tool for the field or fur shed. The flat ground and mirror polished 2 1/4" pelting style blade of L6 high carbon tool steel excells at fine detailed tasks and "opening" cuts on game and furbearers.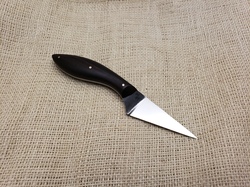 Meat Trapper Skinner
The meat trapper skinner features a polished 4" flat ground skinner blade of L6 high carbon tool steel combined with the very ergonomic and user friendly meat trapper handle design featured on all MT models this is an excellent choice for any hunter, trapper, outdoorsman or taxidermist who finds themselves skinning game on a regular basis.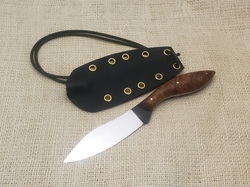 Meat Trapper Boning Knife
With a slender 4" flat ground and polished boning blade of L6 carbon steel this boning knife is an excellent choice for processing medium and large game. Also makes an excellent knife for butchering turtles.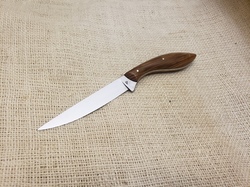 Meat Trapper Drop Point
3.5" flat ground drop point blade of polished L6 and the ergonomic meattrapper handle makes this one of the finest small game and skinning knives you can own.